Beginings - The Start of American "S" Gauge
™
I received my first S-Gauge train set when I was nine years old. It was the American Flyer® 1957 Santa Fe Freight. My father, two brothers, and I assembled the double loop of track with switches on a 5 x 9 layout in the family room to the tune of mother's delight that we were all working together on a fun project.
One weekend Dad and I were looking for ideas at the local hobby shop where the owner showed us some of the two-rail brass flex track made by Bob Peare. My father fell in love with it and purchased some 300 feet to build a 10 x 16 layout that could run four trains simultaneously. It had train-swallowing mountains, chasm leaping bridges, flashing city lights, operating crossing gates, semaphores, bells, chugs, smoke, dings, and whistles. It looked great - - so great that it had to live out on the patio exposed to the late, great air of Los Angeles. And there, alas, with as little as two day's neglect the brass track oxidized and brought my first railroad empire to its electrical knees, and for me a lot of maintenance work, polishing the brass rails to get back electrical contact to keep the layout in operating condition.
It gave me years of enjoyment, one way or another keeping those shining rails bright, the trains running at times, and my railroad empire growing to fill its plywood continent. Gradually the days between polishings grew into weeks and eventually I grew up and put away my childish things forever - - sorta.
One Christmas some time in the late seventies, my brothers Jim and Nick got out the old train set again, but we couldn't find the brass track, and we set it up with some original Flyer track. We got the steam engine rolling along and chugging along, puffing its smoke, and filling the room with that nostalgic cedar aroma. The model train bug had bit me again.
And yet . . . the trains looked great, sounded great, smelled great, but the track did not do them justice or match the realism of the trains themselves, and the old thought came back to me. "The mis-proportioned and mis-shapened track still spoils the whole effect . . . with a bit of effort I could do better than that." My train bug bite had started itching.
Before long I was joining train clubs for the first time in my life, going to train shows and train meets around the country, and generally getting more into the thick of it as an adult than I could ever have imagined as a child. I met a lot of talented and energetic people and made a lot of new friends, traded a lot of ideas, saw a lot of fantastic layouts, built many custom wooden structures for myself and others, and shared enthusiasms with a great community of S-Gaugers. And through all of this I kept hearing repeated from all sides my old childhood wish, "If only there was a better track". Well, maybe by now I was in a position to do something about it.
My first try in the eighties didn't make it to the marketplace for lack of business experience and financial backing. I spent three more years trying to get my designs manufactured here in the United States but it was just too costly - - with the cost of tooling ties for a minimal set of 15 functional pieces, the first production run would have cost more than $850,000. So eventually Nick & I discovered the overseas connection that made it possible to get our designs into production at half the cost. Our track dream began to come true.
For the code .172 - T-rails we could chose to use solid 12% nickel silver for reliable electrical contact and heavy-duty use; no rust, no oxides, smooth running and virtually no wear. The ties are made of UV resistant ABS plastic and spaced at 28 per ten - inch section; they have a raised wood grain finish on the injection-molded surface. The rail joiners have bolt-head details that are structurally functional and make for good electrical contacts as well. The switches have a unique closed frog design to accommodate all three rolling stocks; American Flyer®, Hi-Rail, and Scale on the same tracks. The track comes in a long flex piece and in various sectional pieces with a snap-lock system in the ties to hold the sections securely together with the proper spacing. The rail joiners independently maintain good electrical contacts and the finished track will survive time and hard use.
So! Finally, after all these years of research and design, prototypes and trials, negotiations and market researches we are ready to have our first pieces of internationally produced American "S" Gauge™ track products.
Nick & Tom Mescher
Classic Trains
American "S" Gauge™


---
---
---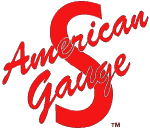 Email: nmescher@classictrains.com

© Copyright 1980-2018 Classic Trains.
All rights reserved. No portion of this website may be copied without prior written permission of Classic Trains.
All prices subject to change without prior notice.